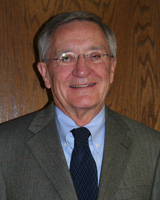 THOMAS G. SAWYER
Phone: 248-689-5700 ext. 107
Fax: 248-689-5741
email: tsawyer@hutsonsawyer.com
Legal Assistant: Linda Johnides
Phone: 248-689-5700 ext. 104

Thomas G. Sawyer earned both his undergraduate degree in Economics and his Juris Doctor from the University of Michigan.
Mr. Sawyer has extensive experience in real estate, business, contracts, estate planning, and probate. He has counseled clients in the formation and operations of many types of business entities. He is an experienced trial lawyer in both trial and appellate courts. Further, he has extensive experience in representing property owners and developers in municipal, zoning, and eminent domain cases.
Mr. Sawyer has over 25 years experience in the Oakland County court system as a court-appointed arbitrator, case evaluator, mediator, and facilitator.
Mr. Sawyer has served as a past-president of the Oakland County Bar Association, the Troy Chamber of Commerce, and the Oakland County Legal Aid Society. He has been an officer and director of the Troy Boys and Girls Club for many years.