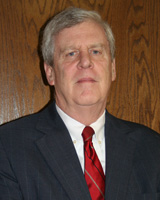 EDSON S. RUPP
Phone: 248-689-5700 ext. 112
Fax: 248-689-5741
email: erupp@hutsonsawyer.com
Legal Assistant: Linda Johnides
Phone: 248-689-5700 ext. 104
Edson (Russ) S. Rupp is a graduate of the University of Michigan and earned a law degree cum laude from Wayne State University. He has been a member of the firm since 2001.
During his years of practice, Mr. Rupp has been involved in qualified retirement plans, estate planning and administration, and real estate. He also has extensive experience in the formation and operation of closely held businesses like corporations, partnerships, and limited liability companies, as well as working with succession planning for closely held businesses.
Mr. Rupp is a member of the Probate and Estate Planning Sections of the State Bar of Michigan.